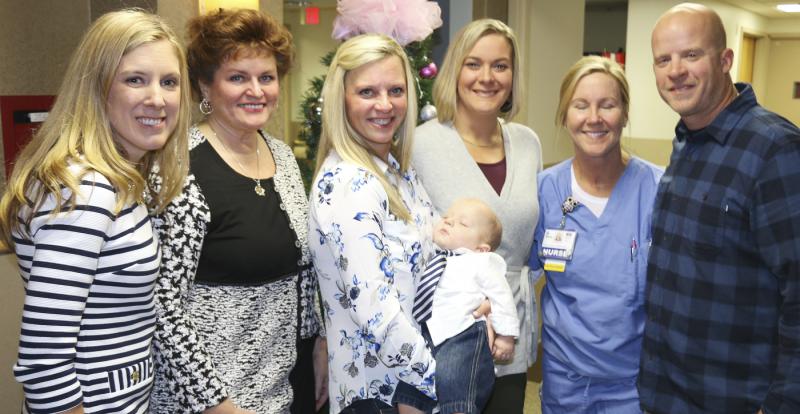 Beebe Healthcare has selected the construction, design and engineering firms for its expansion and renovation project
According to a release, Beebe will be using an Integrated Project Design (IPD) approach with its expansion plans. Under this model of IPD, all firms including construction manager, architect, mechanical engineer and civil engineer, work together with Beebe Healthcare and the community in mind.
Beebe Healthcare chose Whiting-Turner, Baltimore as the construction manager. The Whiting-Turner Contracting Company provides preconstruction, construction management, general contracting, design-build and integrated project delivery services for commercial, industrial, public and private projects. The company has been active in larger Delaware construction projects.
Beebe
In case anyone hasn't noticed, Peggy and Randall Rollins have a warm place in their hearts for Lewes, specifically, and for eastern Sussex County generally. The most recent manifestation of their love came last week when they gave Beebe Healthcare a huge boost with the announcement that their Ma-Ran Foundation will be donating $10 million toward the hospital's $180 million expansion plans.
They have not forgotten their Lewes roots: Peggy as a Lewes High School graduate and one-time employee at Beebe Hospital; Randall as an employee of the Sussex radio stations which, along with a car dealership in Lewes, were at
R. Randall and Peggy Rollins have donated $10 million to the Beebe Medical Foundation and Beebe Healthcare in Lewes.
The gift represents the largest ever received by Beebe, the largest gift in Sussex County and one of the largest made in the state of Delaware, according to a news release from Beebe Healthcare.
"The Rollins family's gift is so inspirational," Judy Aliquo, CEO of Beebe Medical Foundation, said in a statement. "This generous investment in Beebe could not have come at a better time as we embark on the
Beebe Healthcare has announced plans for a new $180 million healthcare facility at their campus in Lewes.
The announcement, billed as historic, was made at the Margeret H. Rollins School of Nursing in Lewes on Friday afternoon. With a price-tag of $180 million, the Margeret H. Rollins Pavilion will feature four levels, over 200 private rooms, in order to enlarge the healthcare campus and services.
This new expansion will include both new facilities and new services on three campuses as Beebe Healthcare works to meet the needs of the growing region. Construction on the
Beebe Healthcare's Board of Directors earlier this month approved a proposal for a comprehensive expansion of the system over the next several years. The $180 million expansion will touch three communities — Lewes, Rehoboth Beach and Millville.
On Route 17, the Beebe Healthcare — a not-for-profit community healthcare system — will construct a long-anticipated year-round freestanding emergency department, as well as a comprehensive satellite facility of Beebe's Tunnell Cancer Center that will include the ability to deliver radiation and chemotherapy treatment.
"The free-standing emergency department will have 22 treatment bays and will be open year-round, 24-hours a day," said Patricia W. Matsko,
In the 22 years Jeffrey Fried has led Beebe Healthcare, the Cape Region landscape has changed significantly.
Growth in Sussex County has exploded. Farm fields are now full of houses, many second homes to those who live upstate or out of state. But when part-time residents retire and move to the area, they put more stress on the healthcare system.
"Most of the growth is people who've moved here from some other area and retired," said Fried, Beebe's president and CEO.
During its 81st annual membership luncheon themed Lighting the Way, celebrated May 2, the Beebe Auxiliary pledged a generous five-year commitment of $1.8 million to the Beebe Building Expansion Plan, starting with this year's check of $312,000, the largest single-year gift ever. With the rapid population growth in the local area, this will allow Beebe Healthcare to better serve the needs of the local community and stay ahead of the curve.
Auxiliary President Nancy Tartaglione presented the check to Jeffrey M. Fried, FACHE, president and CEO of Beebe Healthcare; Richard Schaffner, executive vice president and chief operating officer of Beebe Healthcare;